You have a Legal Right to live in a safe and repair-free home
Our Housing Disrepair Experts can help you claim
Compensation and ensure
the repairs are carried out!
Please note: we're not able to help you if you are a tenant
renting from a private landlord.
ATTENTION – Social & Council Renters
If you have any disrepairs which aren't getting fixed, our team will help – Our aim is to get your property fixed and back into a habitational condition!
Here's how we do it
1. Fill out 30 Second form
Enter your name, email address and phone number to get started with your claim.
2. FREE Assessment
A specialist assessor will contact you to discuss your claim.
 3. Photo Home Assessment
 A free, professional assessment of the damage in your home will be carried out based on the information and photos you provide.
4. Work with your friendly solicitor
We'll introduce you to a specialist solicitor who will work on your claim on your behalf, to get those repairs done
Who are Claim for Disrepair?
Claim for Disrepair is a Claims Management company.  We act to help clients to find legal support in placing a claim against their social landlord when necessary repairs have been left undone. We receive a fee from our partner solicitors when we introduce you to them and they accept your case.
If you so choose, you can make a complaint to your landlord about the condition of your home free directly yourself free of charge. If unsuccessful you can refer to the Housing Ombudsman Service free of charge. Information on your rights as a tenant and on alternative means of dispute resolution is available here. 
Check whether you're eligible to claim now…
WHAT CAN I CLAIM FOR?
Problems you've reported that have not been fixed such as…
ANY disrepair that has caused ill health
Damp or mould that's NOT caused by condensation
Damp or rotten flooring
Broken or faulty boilers or central heating systems
Leaking roof or leaking gutters
Damaged or defective electrics, lights, sockets etc
Broken or rotten windows and doors
WHO CAN I CLAIM AGAINST?
Any Council or Housing Association landlord
You can make a claim against any council or housing association landlord if you reported damage or disrepair to them and it wasn't fixed quickly.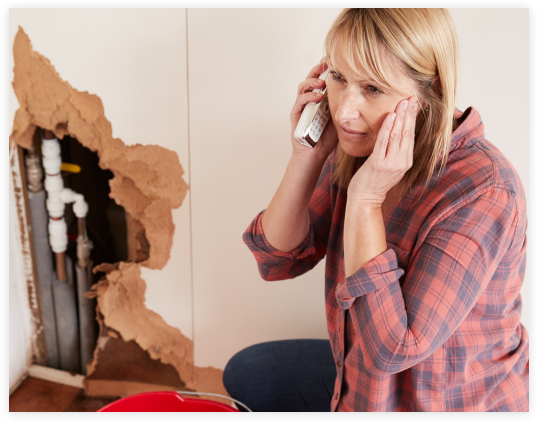 FAQ – Common Housing Disrepair Claim Queries
How is it possible to make a claim against the Council or Housing Association?
As a tenant of any residential property whether it is a house or a flat you have certain rights. One of those rights is that the Council or Housing Association have a legal obligation to keep your home safe and in a reasonable state of repair. They also have a duty to make sure that any defects that you report to them are repaired in a timely manner. If your Landlord does not do that then you may have the right to claim some of your rent back in compensation.
How do I know if I can claim?
If you have any problems with your Council or Housing Association House, you have notified your Landlord of the repairs needed either to the interior or the exterior of the house and they have failed to do anything about it, there is a good chance that you may be able to make a claim not only to get the defects properly repaired but also to recover some of the rent you have paid back as compensation. You may also be able to claim for your personal belongings that have been damaged by the disrepair. If you think this applies to you, the best thing to do is get in touch with us so that we can assess your case.
This is a nationwide problem…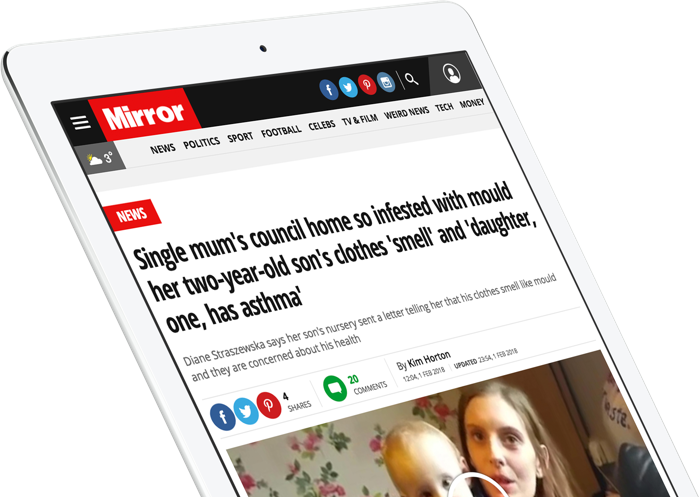 Over 11,000 have claimed
for housing disrepair in 2016
These stories have been featured in: